THE NSW STATE TITLES 2017
August 12, 2017 @ 9:00 am

-

5:30 pm
Event Navigation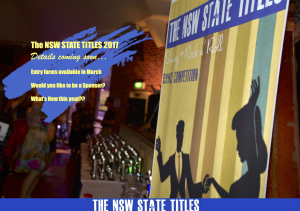 PLEASE NOTE ENTRIES HAVE CLOSED AS OF 15 JULY.  LATE ENTRY FEES APPLIES FROM 16 JULY.  All late entries please check in before entering as some events have been merged.  Program is underway as we speak.  SPECTATORS TICKETS ON SALE NOW!
Please check to see if your name is on the Competitors List.  If you have sent an entry form in and your name does not appear on this list please contact us at nswstatetitles@outlook.com immediately.

Aaron Mol
Aaron O'Neil
Abigail Aber
Amanda Bell
Amy Dunstan
Andrew Auditore
Ashton Borg
Ben Nobrega
Bettina Naughton
Bernadette Cajigal
Bon Nobrega
Bradford Jeffries
Brant Ashley
Breanna Borg
Caitlin Hooper
Caitlin Brownlie
Catherine Pogonowski
Claire Goldsworthy
Darryl Badman
David Naughton
Dean Badelles
Diamond Araujo
Ernie Kam
Felix Or
Garnet May
Gary & Deborah Cheers
Georgia Luyt
Gilbert Whitton
Graham & Sue Colliton
Grant & Maryanne Richards
Hannah Nelthorpe
Ian Mosman & Carmel Mottlee
Jack Aber
Jacqueline Curry
Jade Araujo
Jaiden Holt
Jake Forbes
James Star
Jason Jackson
Jocelyn Wright
Jody Renshaw
John Lizzio
Julie Weatherstone
Justin Di Paola
Kara Munn
Karen Armstrong
Katarah Lukehurst-Peick
Kate Bond
Keith Andrews & Helen Andrews
Kristal Forestieri
Kristina Sarma
Lee Holt & Leanne Holt
Linda Sands
Elizabeth Stride
Lyndal Glasheen & Timothy Glasheen
Margarita Nobrega
Max Aber
Maya Lingbot
Megan Puckeridge
Melinda Hodges
Melissa Lane
Michaela Avery
Michael Ciantar
Melly Hill
Monica Kroehnert
Muriel Perovich
Nathaniel Borda
Netta Kovach
Nicholas Richard
Nicola Simmonds
Paul Neads & Sandy Molloy
Percival Sands
Peter Ryan & Darienne Carraro
Phoenix May
Robert Schofield
Serah Williams
Seth Aber
Sienna McMullen
Snedden Thompson
Stuart Smith & Janine Smith
Suzie Braumann
Sue Collition
Tamala Smith
Tamara Vella-Powell
Tasha Vella-Powell
Taylah Beecham
Tara Snelling
Tiff Moorhead
Travis Johnson
Trudi Pickering
Viennessa Wimborne
Program Order on the Day – Approximate times only
Swing 10.15am
RocknRoll 11am (Teams will be in the RocknRoll Section of the Day around 1pm)
Lunch 1.15pm
RocknRoll Resumes with Teams 2.15pm
Rockabilly 2.30pm
Linda Hop 3.15pm
For the interstate travellers please check the floor plan and familiarise yourself prior to the day.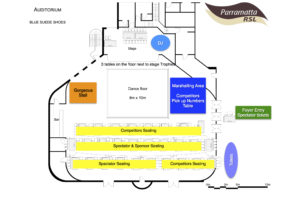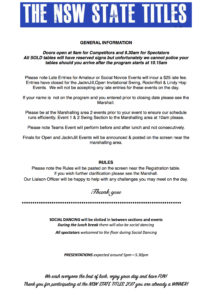 Thank you to our wonderful Sponsors who have helped this event happen once again in our 8th Year!
We are happy to announce Gorgeous Wear from Melbourne will be back with their range of shoes and clothing. Please visit their stall and make them feel welcomed.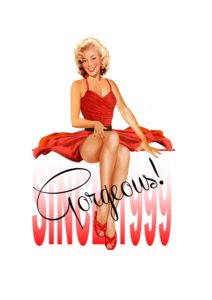 ARGYLE ESTATES BUSINESS BROKERS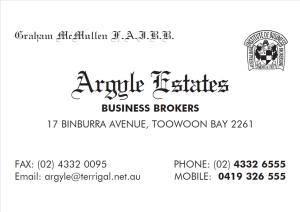 ALL SHOOK UP





VICTORIAN ROCKNROLL ASSOCIATION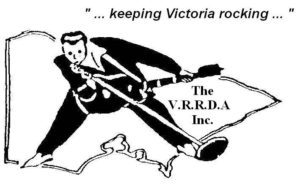 ALLEY CATS MELBOURNE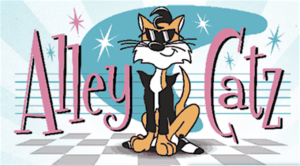 MOVING 4 HEALTH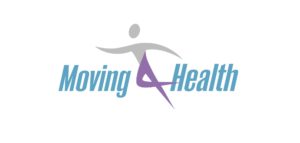 RHYTHM JUNCTION SYDNEY


The NSW State Titles 2017 will be held at Parramatta RSL Macquarie Street Parramatta on Saturday 12 August with doors opening at 9am.  Spectator ticket holders  may jump the queue.  Spectators without tickets may purchase tickets on the day.
Fun, family friendly all welcomed!
Teams, JacknJill, and Pro Am novelty favourites are back and strong as ever with 6 Teams and over 40 entrants for the JacknJill!
RocknRoll, Rockabilly, Lindy Hop and Slow Swing Categories.
Please see below for the Events Lists.
After the event there will be dancing at Merrylands Bowling Club Newman Street, Merrylands with On the Prowl and DJ Glen Hunt.  Only 3.8kms away about an 8 minute drive.   Free entry.
FAQ  Please click on the image to enlarge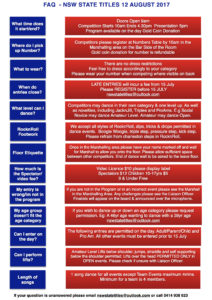 ****DOWNLOAD PDF FORMAT BELOW JUST CLICK ON EVENTS LISTS BELOW****
EVENTS LIST 2017 Sheet1
Categories and Age Restrictions Below
Sponsorship is now open and forms are available by emailing nswstatetitles@outlook.com
Payment options
bank deposit, eftpos or online shop
Please note online shop will incur $1 fee
Payment here
Competitor Fees 
Adults $15 per single event or $55 for up to 6 events
Children (17 years and under)  $8 per single event or $30 for up to 6 events
Spectators wishing to enter Pro Am Novelty events only $10 per event
Entry forms are due 15 July thereafter a late fee of $25 per event will apply
Spectators tickets on sale from June via our link below
Adult spectators $12 Children 10-17 years $5  and Free for 5-9 years
Competitors free
Buy tickets here