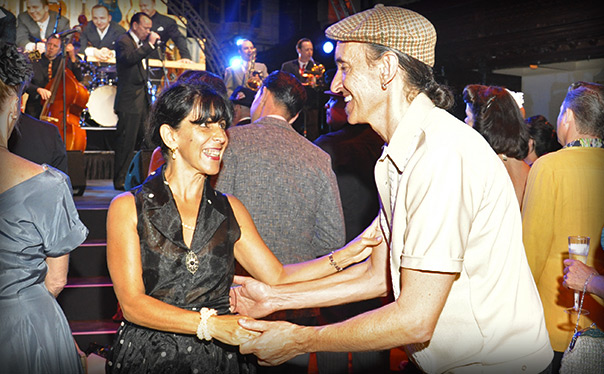 Our Mission is Fun! Fun! Fun!
Our Motto ….It's better than the Gym
There's a STORY behind every craft. We don't make anything with our hands but we create something with our feet. Bringing with it imagination, individuality and
originality. Creativity is courage.
Below is the story of our beginnings.
Our aim is to give you the best possible service & introduce our passion of Dance into your lives. 
DON'T JUST JOIN A STUDIO….JOIN A TEAM!!!!
With the reputation and credibility  of 30 years in the business teaching young and young at heart we are proud to be the longest running RocknRoll/Swing Dance Studio in Sydney, Sydney's West, Central Coast and Newcastle with Headquarters in Gosford.
"Join our team and not just a Studio" is one of our mottos.   Celebrating our 30th Year of
Retro Vintage Dance Classes Swing, Rockabilly & RocknRoll!
Family friendly classes including kiddies, teens, adults, seniors of all ages, all genders just having FUN teaching happy feet the Happy Dances!
Our staff are members of the NSW RocknRoll Association Inc.
Member of AUSdance NSW & VIC branch.
Anna Ocello founded Blue Suede Shoes Dance School in 1991. Anna's lifelong love of dance led her initially to Ballroom and Latin Dancing in 1988 and in the early 1990's Anna became involved in the RocknRoll movement through the Australian RocknRoll Dancesport Council, S.A.T.D, and F.A.T.D. and qualified with all three bodies.  In 2017 Anna with fellow dance associates  formed the NSW RocknRoll Association for teachers and dancers.
Her first studio was opened in 1992 at Ashlar Golf Club in the Blacktown District of Western Sydney. She began teaching RocknRoll, Latin and Social Ballroom classes, specialising in teaching children from beginner through to competition levels. In 1995 Anna's love of the 1940's led her in another direction when she became involved in the Swing/Lindy Hop dance craze.
Home of the Swing Kids – The studio was founded on children's classes and continues to this day to teach the juniors.  We are also an ACTIVE KIDS Provider and staff are registered with Working with Children.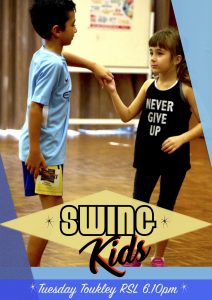 In her passion to keep these dance  styles alive in Australia, she trained and enrolled into many workshops with the best of the international talent, including Frankie Manning,  Sylvia Sykes, Sing Yuen Lim, Jonathon Bixby, Rhythm Hot Shots – Mattias & Eva (W) ,  Marcus and Barbl and many, many more. In the early days it was primarily Savoy Swing style and now the studio also blends hollywood and westcoast swing styles. More recently Blue Suede Shoes staff and some of the students travelled to Rock That Swing Festival in Munich (2013) and Frankie 100 (2014) in New York where they engaged in further workshops with Stephen & Chandrae, Patrick & Natasha, Kevin St Laurent,  Max and Annie, Nick Williams and once again a list too long to mention.  The Staff have also been influenced by Boogie Woogie and enrolled in workshops with William and Maeva, Thomas and Alice and Thorbjorn and Suzanne in the last few years and in 2017 travelled to Lake Como for the Swing Crash Festival.
From the initial studio at Blacktown, Blue Suede Shoes expanded classes covering a vast section of Sydney, from the Inner West to Outer West of Blacktown, Emu Plains & Camden and the Central Coast/Newcastle region. See our Lessons Page for locations.
Over the last 30 years Blue Suede Shoes Dance School has been a mother and son family run business with Justin Di Paola taking the position of Manager and in addition to teaching, together they have expanded to include hosting 6 major Dance Events, including Chromefest at The Entrance and the Western Sydney Dance Championships/NSW State Titles and diversified into retro/vintage fashion with  One of a Kind Clothing Store.
In February 2020 Blue Suedes Dance School became a member of the NSW RocknRoll Association Incorporated.
With the evolution of our classes and dance school we have decided to start up another name for the Central Coast division of our dance school.  Swing Dance Central Coast.  At this point in time the Facebook page is a closed group and has been running for 2 years. It will slowly grow into the next phase of Blue Suede Shoes Dance School business page.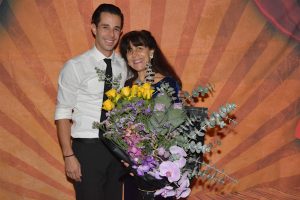 Anna with the assistance of her son Justin has brought much success and interest to the studio over the years and continue each year to engage new courses, new venues, and new events. The Blue Suede Shoes Dance School is now full time dancing for Anna and Justin. Come dance at one of their venues and see why they are one of the longest running schools and be  greeted by Anna, Justin or one of the friendly team members.  They also travel and offer workshops interstate, internationally and regional areas.
Justin also is the co-founder of the performance dance troupe Sydney Swing Katz, one of the first troupes in Sydney and the Swing Katz are available to book for corporate functions, weddings and festivals. Please visit Sydney Swing Katz for more details regarding this spectacular premier retro vintage dance group.
See us here in the Sydney Weekender Chromefest Promotion. Click on Chromefest below