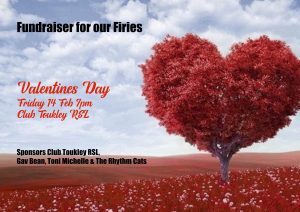 CONGRATULATIONS!! on achieving this awesome result of $6636.05.
The event was a huge success and thank you to
Toni & the Rhythm Cats, Gav Bean
The Volunteer team,
Everyone who donated gifts for the raffles and silent auctions
And to all who donated cash.
You should all be proud!!!
I think we have all been going through a rollercoaster of emotions with the bushfire devastation and it's ok to be sad, it's even ok to be angry and feel helpless. BUT I think we need to lead in a more positive way now more than ever.
It's time for calmness and normality, time to rebuild communities and help them grow again. They need our help. Let's be the change. Let's lead by example and focus on the good and the positive outcomes. Let's help pick up the pieces. Too many brave people to be grateful for to let our anger get the better of us. Too many lives, homes and animals have been lost & now need our assistance. How about we become more productive? What can we do to help?? What can you do to assist the countless people and services that need your help?
3 weeks ago I asked if our dance community wanted to help with a fundraiser for the firey's and there was such a positive reaction and lots of dancers put their hands up to help.  We even had Club Toukley donate their auditorium, Gav Bean his DJ Services and Toni Michelle & the Rhythm Cats offered to play for us.  The bushfires over the Christmas/New Years Season unfortunately worsened.  We are now more than ever committed to help this cause.  We will be working with the Charmhaven Central District Rural Fire Service and we hope you come along and support the Fundraiser.
The gift of GIVING is alive and well.
We have had numerous messages asking what can be donated for prizes.
We have a number of hampers donated, Alcohol, Arnotts Box, Bunnings Voucher & Cotton On Gift Vouchers.
Below is a list of what we don't have yet
Restaurant/Cafe Dinner vouchers, generic gift cards, accommodation voucher, electrical appliances, sports memorabilia, beauty or hair salon/barber vouchers just to name a few.
I hope this helps with everyone's questions.
Many hands make light work thank you.
PLEASE email your list of donations to sue@expressfirstaid.com.au
We now have 14 Volunteers who have put their hand up Thank you so much.
Door entry will be $25 will all proceeds going to Rural Fire Service Central Coast District
Entry Tickets may be purchased at classes or on the night.
Tickets on sale from 16 January ring 0414 938623 for details
We are accepting gift donations to raffle, auction etc
Please email bluesuedes@hotmail.com for more information regarding gift donations 
Please note tickets are non refundable
First in best dressed there will be no tables reserved
Tickets will be emailed for record purposes