CHROMEFEST SOCKHOP PLEASE NOTE ALL TABLE SEATING IS SOLD OUT!!!!!
Si Cranstoun headlining  this year's Sockhop
STRICTLY PREPAID tickets only!
BIG NEWS !! THIS ROCTOBER!!!
The place to be Saturday 28 October! 7pm!
Keep your eyes peeled on this event.  As part of Si Cranstoun Australia Tour.
We are happy to also announce Mescalero as the support band with DJ Gav Bean.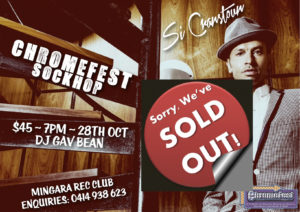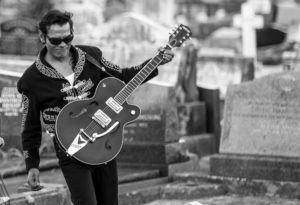 Venue Mingara Recreation Club Auditorium Downstairs,
Mingara Drive, Tumbi Umbi
Mingara is approx 7kms from The Entrance.  The event will be held in the Auditorium downstairs.  Please note for those out of town we suggest a bus or taxi.  Perhaps ask your place of accommodation if they have a shuttle bus to Mingara Rec Club.
The club has a few options for dinner upstairs.  So please leave enough time to grab a bite.
PLEASE BRING your ticket or online RECEIPT.  Doors open at 6.30pm with Dj Gav Bean followed by Mescalero.  Social dancing in between before Si Cranstoun comes on.
Although seats are allocated and table signs are placed on each table we cannot police 400 people in the room.  If you are going to be late please ensure you have someone save your allocated seat.
STANDING ROOM tickets CLOSED. We have a NO HOLD POLICY and no REFUND.
Tickets may be transferred.
Seating Allocation to date



Si Cranstoun will have merchandise available on the night and will be available for signing.