We would like to open this Newsletter with a welcome to all New Students and a thank you to all Blue Suede Shoes members who have been part of the Studio this year.
Settle back and enjoy a good read with this months Newsletter and upcoming events.
Please note we will have a Christmas Newsletter out in Week 3 of December with all the resume dates for 2015.
This time of year we like to Reflect on the Year that has been.  Our Highlights this year was Frankie Manning's 100th Birthday in New York, The Wartime in July Salvation Army Event, Chromefest Sockhop and the success of the WSDC NSW State Titles.  We will continue to bring these events to you next year and will also keep our syllabus content fresh and up to date with a view of what is current.
CHRISTMAS PARTY
Only 2 weeks remaining to purchase your ticket. We have 30 tickets available.
The theme this year is Pyjama theme. We have got clearance from the club to enter the foyer in your Pjs provided you do stay in the auditorium.  For those who do not wish to dress in theme please come along in Christmas Colours.
At this year's Christmas Party we have introduced 2 New Awards along with our annual Best Couple Award and Student of the Year Award. We will have a rookie award for the New Kid on the Block and a Long Term Award for students who have been with Blue Suede Shoes Dance School for 10 years.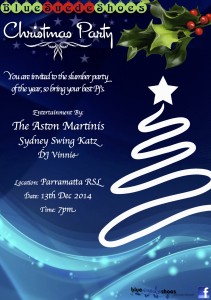 LONG JETTY SOCIAL
Thank you to all who supported this event. It was a great success with wonderful feedback. We look forward to next year's Social. Dates will be released in February.
GOSFORD SOCIAL
One night only with DJ John Ryan Fri 5 December 2014. $5 at the door.
DJ John Ryan is back for one night at Gosford. Come along with your Christmas Cheer, nibbly's and dancing shoes.

STOCKTON RSL DANCE PARTY
Monday 1st December will be our last class for this year at Stockton RSL and the following week Monday 8th December we will have DJ Brian Bean for our Jingle Bell Rock Dance Party. Everyone welcomed including children.
$7 at the door.  Bistro available from 5.30pm

TERM END DATES
Please note each venue closes its doors and different stages.  Take note of your venue closure below:
Stockton RSL 1st December
Gosford 3rd December
Emu Plains 8th December
Long Jetty 9th December
Woodcroft 11th December
Camden RSL 15th December
Concord 17th December
Resume dates will be advertised in the next Newsletter.  We will also send emails to each separate venue and post on facebook once dates are confirmed. Please also check the Website for weekly updates.
GIFT IDEAS
Christmas Gift Vouchers available which can be redeemed for dance lessons, privates or DVDs. We also have Gift Vouchers available for our One of a Kind Clothing Stall. Gift Vouchers start from $50.

NEW YEARS EVE
There are many dance events New Years Eve this year. For those who would like to travel we have two dance studios that we support and affiliate ourselves with who have organised New Year's Eve events. Below are the details.
All Shook Up – in Largs Gary Haigh – 0412 114 647  70s/80s theme


Footloose Rockers – in Shellharbour – Susan 0410 483 560  Blue Hawaii Theme


Stay tune for all local New Years Eve Parties on our weekly gig guide in Week 2 of December.
2015 DIARY DATES
The following Events have been confirmed.
2nd May RocknRoll Prom – Doyalson RSL
25 July Christmas In July Salvation Army Appeal A Day at the Races theme – Central Coast Leagues
15 August WSDC NSW State Titles – Parramatta RSL
24 October Chromefest Sockhop
WHAT'S HAPPENING IN JANUARY
17 Lady Luck Festival Katoomba
One day festival

Lismore Swing Camp 10th Anniversary
One week of Dance Workshops with International Teachers
Tuesday 20 January – Sat 24 January

GIG GUIDE
Please note the regular Gig Guide will be updated each Wednesday on the Website and on Facebook.
COURTESY CALL/TEXT OR EMAIL
We appreciate everyone's hectic lifestyle and situations do come up at the last minute.  We do however ask if you can possibly advice us of your absence from classes.  Some of our venues require our staff to travel a fair distance up to one and half hours.  This will enable us to contact others in the class and reschedule any classes effected by absentees.
SAYING
The effect you have on others is the best currency there is. NO amount of money could buy that, it comes from the heart.   Jim Carey