Happy New Year to you all!!!
It's time to Kick off the Year & Jump into Dance Classes!
Let's blow up those skirts and dust off those shoes!
Are we ready to RocknRoll? Get into the Swing of it Now!
Check below for our new courses and start dates.  Looking forward to meeting new people in our Beginner Courses and cant wait to see the return of our intermediate/advanced students and followers!  We've missed you!
There are a couple of changes and additions to our courses and venues. For those at Woodcroft please note the venue caught fire on 8th January and is in disrepair with the roof caved in and the building gutted. We are looking at a venue in the vicinity.  The Council and Caretaker have been in contact and have a substitute venue for us for which we are thankful.
Woodcroft was home to Blue Suede Shoes for over 20 years.  We were the first hirer and the longest standing hirer at this venue. It has saddened very many of us, including staff and students past and present. I was overwhelmed by the phone calls, messages and emails from so many.  Wonderful memories for myself and Justin and so many of our young adults who began their journeys at Woodcroft.
We are ready to start new memories in a new fresh year at a new venue.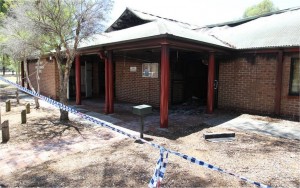 What's New you ask?
Short Course at Wollongong commencing February

ALSO….
New Venue for Woodcroft area  – to be confirmed negotiating as I write this
New Venue on the North Shore commencing March
LADY LUCK FESTIVAL
The first festival is around the corner.
Lady Luck Festival 16 & 17th January Carrington Hotel, Katoomba.
Cars, music, dancing, retro stalls.  Performance & free Lesson by the Swing Katz.
Time to check out those Forgotten Frocks!  One of a Kind Stall will be there as well.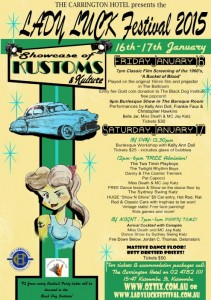 NEW COURSES
We are introducing Ballroom short courses at some of the Venues once again.
Please register your interest. Classes with sufficient numbers will go ahead.
Gosford – Waltz in February, 1920s Charleston in March, Quickstep in April
Camden Thursday Nights – Quickstep & Slow Rhythm in February and Waltz in March
Emu Plains – Charleston Challenge – January
Stockton – Balboa – February
Woodcroft Long Jetty– Adult Performance Class –  (suitable for students who dance more than one style and like to learn routines and perform at our functions or festivals)
Please note Courses in Cha Cha and Balboa will be held throughout the year at selected venues.

Below are the Resume Dates for each venue and please note to check our Lessons Page for all New TimeTables for each venue.  The Timetable will be updated on Monday 12 January.
WE START BACK
Camden RSL & Emu Plains Mon 19 Jan
Concord Wednesday 21 Jan
Woodcroft/Blacktown Venue Thurs 22 Jan  Venue to be confirmed
Camden RSL Thursday Ballroom  Thurs 5 Feb
Long Jetty Tuesday 20 Jan
Stockton Monday 2 Feb
Gosford Wednesday 4 Feb
All beginners enroling for the first time please come along 10 minutes prior to register.
WORKSHOP
Want to learn a few new dips & tricks to spice up your dancing?
This workshop is for you?  Enrol Now!!
Concord Presbyterian Hall Sun 1st March 2pm-4pm $20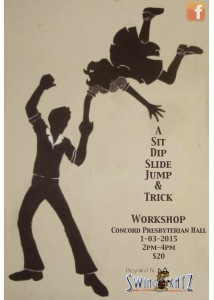 JUST 4 KIDS DANCE CLASSES
Children dance classes begin in February at Plumpton Venue & Long Jetty Venue


NEW SWING SOCIAL VENUE
For those in the Hunter and surrounding Regions.  looking for a social afternoon of Swing Dancing.  Take advantage of the new Swing Venue at Great Northern Hotel on Sunday afternoons 2-6pm.  Your hosts Scott & Karen.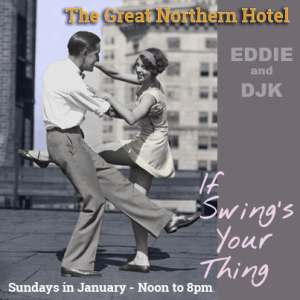 Upcoming Events
Rockin & Revin @ The Jetty Hotel Sun 18 January
Rocks Brewery Company Big Day Out Sun 25 January
Tamworth Country Music Festival 16-25 Jan
Leura Charleston Challenge Sat 7 February
Ballarat Beat Rockabilly Festival Feb 12
Summer City Rumble The Entrance Sun 15 Feb
National Multicultural Festival Canberra 14-15 Feb
Kiama Jazz Festival Sat/Sun 7-8 March
Kurri Kurri Nostalgic Festival 27-29 March
Blue Suede Shoes First Major Event of the Year
1950s Rocknroll Prom Returns!
Sat 2 May Doyalson RSL with the Jungle Kings & Aaron Elvis
Save the date !!!  Tickets on Sale SOON accomodation details available

BRIDAL 4 WEEK SHORT COURSES and PRIVATE LESSON PACKAGES AVAILABLE
Getting Married?  You have come to the right place.  We can choreograph to your own chosen song for your special day.  We have access to dance troupes, djs, even wedding cakes and photographers.  Please email us for details.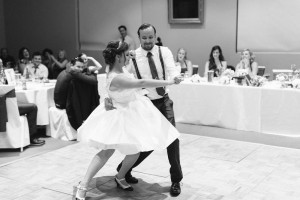 ON THE LOOK OUT!!
Calling for all new Beginners, 2 left feet our Speciality!!  Don't be shy, take the first step! and ENROL NOW in any one of our short courses.
Make it happen in 2015.  We love to see newbies!