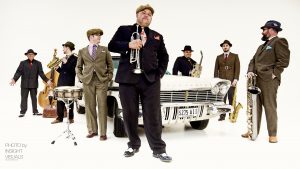 LUCKY SEVEN featured for this year's Christmas In July
BLUE SUEDE SHOES PRESENTS LUCKY SEVEN for The NEXT BIG EVENT
You won't want to miss this one!!
This event is being held in the Parkview Room upstairs
Doors open 6.45pm Bar opens at 7pm
Bistro and eateries available downstair in the club and maybe brought upstairs.
PLEASE NOTE :
We are collecting donations for Coast Shelter (non perishable food, manchester, clothing, toiletries, toys etc)
The cart  closed Tuesday 16 JUNE unless sold prior.. Only a handful of tickets left.
Should you wish to purchase tickets please email bluesuedes@hotmail.com to see availability.
Saturday 27 July 7pm
Central Coast Leagues Club
1 Dane Drive Gosford
The 220 tickets have SOLD OUT
Please note there are no refunds . Tickets are transferrable.
Please note there is a car park and a couple of bistros to choose to have dinner.
Tickets NOW $40 Adults Kids $20
Please text 0414938623 for your ticket.
If you wish to sit with friends please nominate name and table see Floor Plan below
We are SUPER excited to announce we will be featuring LUCKY SEVEN From South Australia
Get ready to bop, drop and jive!
Straight off the set of your favourite gangster movie,
Lucky Seven are an old school swing outfit that simply can't be stopped.
It doesn't matter when you rock, swing or boogie.  These guys are great musicians and you can dance strut your style.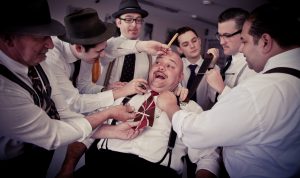 A band not to be missed!
Everyone welcomed family friendly