BLUE SUEDE SHOES DANCE SCHOOL END OF YEAR CHRISTMAS PARTY
Fri 8 December 7pm at Parramatta RSL
Seated tiered level, great dance floor, bistro available downstairs
TABLE SEATING SOLD OUT!
There are seats available along the back wall but no tables.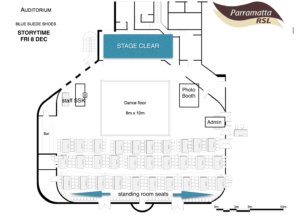 STORY TIME THEME …. Dress up in your favourite character

Bistro available from 5.30pm
Parking available across the road parking station validate your ticket at reception
Doors Open 6.30pm with Dj Vinnie
Hellcat III 1st set 7pm
The Lincolns 1st set 8.10pm
Student Performance Routine 9pm
Photo Booth, Raffles, Awards and so much more
Bring your dance shoes and dress in theme and bring your Christmas Cheer.  Lots of dancing to be had, student performance participation, and have your photo taken DIY in the photo booth area


The Lincolns from South Australia booked for this year's Christmas party with one of our favourite local band Hellcat III.  Yes its another double header with Dj Vinnie !
All welcomed, family friendly
Tickets on Sale 10 August $25 Adults $15 Children SOLD OUT
STANDING ROOM ONLY
PLEASE NOTE THERE ONLINE PURCHASING HAS NOW CLOSED 
TO BUY YOUR TICKETS – RING 0414 938 623