To all our newbies who are visiting our page for the first time please take some time to look through our website and facebook pages and familiarise yourself with our dance studio.
Where to Learn? – Lessons page is updated every week so please do check for any last minute changes. For quick updates you may also visit our Facebook Page Link here
NSW State Titles Re cap
Congratulations to all competitors and officials for a successful 2017 NSW State Titles Championship. It was the most pleasurable and fun championship I've had to organize since its conception in 2010. We had a fantastic team behind the scenes to which I am very appreciative of.
Thank you to all the support from our sponsors, officials, family, friends, dance studios and spectators. We have secured Saturday 11 August 2018 for our next championship.
All results and photos can be found on the Facebook link here

NEW SPRING Course Dates – Bring your friends –
Absolute BEGINNERS welcomed buy your first lesson and receive a FREE Lesson
Emu Plains & Camden Mon 28 August
Concord  Wed 30 August
Gallipoli Legions Club Mon 4 September
Club Toukley Tues 5 September
Gosford Wed 6 September
Please visit Lessons page for full timetable here

Students Christmas Routine
Our popular students routine is back for our Christmas Party.
Please check with all venues to register your interest.
The following venues will start a 4 week course on the following dates:
-Plumpton will begin Thursday 7 September at 8pm.
-Gallipolli Legions Club Monday 4 September at 8pm
-Club Toukley Tuesday 5 September 8pm
-Gosford Wednesday 6 September 8pm
End of Year Christmas Party Story Book Theme
Get ready for this year's end of year Christmas Party. Save the date Friday 8 December at Parramatta RSL with THE LINCOLNS from South Australia and home grown Hellcat III with Dj Vinnie.  There will also be our popular student participation routine!
All welcomed ! family friendly.
This is an event not to be missed. Our theme is Story Book.
Tickets are now available the first 60 tickets have been sold in 3 days.
Purchase your tickets from the link here or book by emailing us and arrange to pick up at class.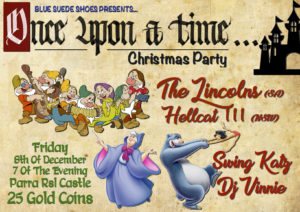 One of a Kind Clothing
Chromefest is fast approaching and we are now collecting consignment. If you have any vintage or preloved Rockabilly ladies or mens clothing please email me. We have decreased our range and will not be accepting preloved shoes, jewellery, hats or handbags.
Visit our page here

Wanna Dance Scholarship
Announcing the candidate for Wanna Dance Scholarship kindly donated by Argyle Estates Business Brokers
Katara Lakehurst-Piek
Pictured here at the NSW State Titles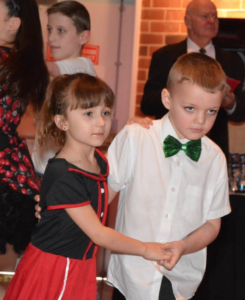 Friday Night Bop
Friday 27 October at The Entrance Leagues Club join us with Hellcat III.
We have 30 tickets remaining. Please note this is a seated event and there is a bistro available and ample car parking.
Tickets $15 and may be purchased at this link or book to pick up at class.
For more details visit our page here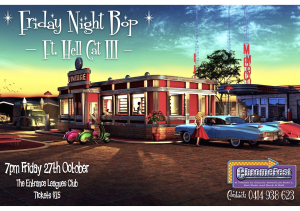 Medal Examination
Our second medal examination night will be held at Gosford Hall Corner of Albany Street North & Henry Wheeler Place, Gosford on Wednesday 1st November at 7pm.
Please email us for the nomination form. Medals Fee for BSS students and All Shook Up Students is $35 per medal.
Spectactors welcomed for a small $5 fee.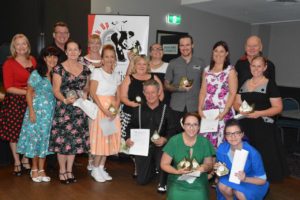 Emu Plains Venue
Just a quick mention to note:
The school has advised to please note that Smoking is prohibited in the grounds of the school and in all government premises.
Courtesy Call

Please pick up the phone and give us a call, email or text if you are unable to attend class.
If you have booked a private lesson and cancel on the day of the lesson a cancellation fee of $33 is charged and is payable.
Unfortunately we need to pass on the overhead costs.