PLEASE NOTE ALL CLASSES ARE ON HOLD UNTILJUNE- Please refer to Venues Closed Below for your locality. Thank you
MAY is the month to spoil your Mums and it's the Anniversary of Frankie Manning's Birthday.  In the words of the great man…
"A one, A two, You know what to do!!"
FRANKIE 100 NEW YORK
Please be reminded we are all traveling to Frankie 100th this month.  We will be away from 17 May to 4 June.  Below are the venue closure and resume dates.

Venues closed as per follows
Emu Plains closed 12 May resumes 9 June
Camden closed 12 May resumes 16 June
Long Jetty closed 20 May resumes 10 June
Concord & Gosford closed 21 May resumes 11 June
Woodcroft closed 22 May resumes 5 June
RocknRoll Dance Party
The Magoo Charity Classic
With DJ Vinnie
All Proceeds from the night donated to Cancer Care  NSW Health
Tickets $10
Organisers Barb & Mick Ring Barb 0417 984 861

Swing on in during June and enroll in one of our NEW Courses – Start spreading the News!! The courses listed below are New for the month of June.  Please don't forget to register. Failure to register may result in course cancellation.  Please check our Lesson page for our Full Schedule of Venues &Times.  http://www.bluesuedeshoesdance.com.au/lessons/
Emu Plains –  Waltz 9 June 8.25pm
Long Jetty –  Waltz 17 June  8.25pm
Gosford –  Balboa 18 June 8.25pm
Upcoming Events – Please see our Events Page for upcoming events: Wartime in July, NSW State Titles,  Masquerade Ball at Maitland and Revin' Rockabilly Festival  http://www.bluesuedeshoesdance.com.au/events/
FOR SALE …. BSS Tops & DANCE DVDS
An order for Studio shirts is being placed 4 April and we have also added T Shirts and Singlets in our range for Ladies and Gents and children. Once again Red, Blue, White, Black are available in Polos and T Shirts.  Silk Screen Front and Back including Polo Shirt is $25 and V Neck T Shirt/Singlets are $20.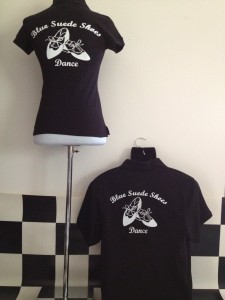 Our Dance Instructional DVDs Beginners, Intermediate & Advance are also available. Students $20 Non Students $25.
Wartime in July
We have had an overwhelming response with over 150 tickets sold.  The LAST 50 tickets went on Sale this week please book your tickets NOW.  Reminder there will be no refunds on purchased tickets.  We have already sold quite a few from this last batch.  There will be no further tickets released once these have been sold as we have reached our maximum of 200.  We would like to Thank you for your support.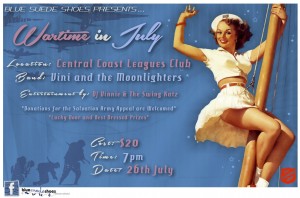 What's NEW
Stockton RSL Rockabilly Classes
On Monday 5th May at 7pm we will be commencing Rockabilly classes at the Stockton RSL Club.  There will be a 2 week introductory course offered for $25.00 and we will follow this up with a 4 week course starting in June.

Revin' Rockabilly 21 June
One of a Kind Clothing and Blue Suede Shoes Dance School have been invited to attend the Revin' Rockabilly Festival at Stockton RSL on Sat 21 June.  We invite you all to come along and support this event.  There will be activities for everyone, dancing, bands, competitions, cars, & market stalls.

Fees
We are proud to announce that our Schedule Fee will remain the same this financial year.  All casual fees will remain at $15 for most venues except for Camden & Emu Plains where they have been reduced to $10. Central Coast, Concord and Woodcroft can also take advantage of our 4 Lesson Pass for $50 and 8 Lesson Pass for $90 during Term 1.  Private Lessons are available by appointment.
COURTEOUS REMINDER
If you are absent from a small group class OR unable to attend your private lesson appointment please notify us by text at least 3 hours prior. Thank you for your consideration.  A cancellation fee will apply to Private Lessons for a "no show".
 SAYING
Your life does not get better by chance it gets better by change
Remember to subscribe to the newsletter and Like us on Facebook to receive your daily updates.