http://www.bluesuedeshoesdance.com.au/?s=August+Newsletter
Mid Winter Warmers
Yes it's cooling down but the floor is only just heating up!!   Winter months sees our biggest events with Wartime in July this month and the NSW State Titles next month!!!!
Thank you to all the students who represented Blue Suede Shoes Dance School at the recent Revin Rockabilly Festival.  The one day event was a huge success and we look forward to next year's event.
CONGRATULATIONS!
Andrew Hawken & Lynette Khan for their win in the Alley Katz Melbourne Open on Fri 27 June taking out 3 events including the $1000 cash prize.

AND FURTHER CONGRATULATIONS!
To Miss Dee Meanour for her win at Miss Pinup Australia NSW State Titles on Sunday 29 June.  Miss VaVa Voom NSW

WHAT'S NEW
We have had many requests from students who are not familiar with social media and facebook to post the Gig Guide on our Website.  As of June the Gig Guide has a page of its own on our Website and is updated every Wednesday. If you know of any gigs in your area please email us and we would be glad to add it to the list.
SHOP
There are some Blue Suede Shoes V Neck T Shirts and Polo shirts in stock.  Please place your order in at any of our dance venues or by email.
OUR NEW COURSES FOR JULY
Woodcroft – Cha Cha Intermediate 3 July 8.25pm
Gosford – Balboa Intermediate 2 July 8.25pm
Stockton RSL – Swing Intermediate 7 July 8.10pm
Enrol in one of our 4 NEW Courses –starting in the month of July.  Please don't forget to register. Failure to register may result in course cancellation.  Please check our Lesson page for our Full Schedule of Venues &Times.  http://www.bluesuedeshoesdance.com.au/lessons/
WARTIME IN JULY SAT 26 JULY CENTRAL COAST LEAGUES CLUB $20 7PM
We have had an overwhelming response and have hit record sales with 220 tickets sold. The last lot of tickets are AVAILABLE NOW!!  Only 10 tickets on Sale!, first in best dressed! Please be reminded this is our annual charity and we do ask our guests to bring something along in the way of non- perishable food items, toiletries, clothing, toys etc to donate to the Salvation Army Winter Appeal.
We will also be looking for the BEST DRESSED on the night!!!

NSW STATE TITLES
Entries close Tuesday 1 July.  All late entries will incur a late fee of $10 for administration purposes.  We are pleased to announce entrants from Melbourne, New Zealand, Brisbane, and NSW regional and metropolitan.  It's not too late for South Australia and Perth entrants.  We are proud to have officials and adjudicators from Western Australia, New Zealand, Queensland and New South Wales.
Please be reminded we have workshops available for those of you arriving into Sydney on Saturday 9 August at our Concord Venue.  New Zealand Teachers Joanne & Rodney will be available for Tricks and Dips Workshop. Book now!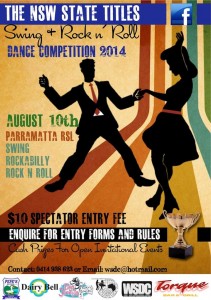 CHROMEFEST SOCKHOP
Chromefest 3 day festival is bigger and better once again this year! Don't forget to book your accommodation NOW!  And grab your ticket for the Saturday night Sockhop featuring 50's RocknRoll Band Vintage Overdrive with DJ George Houndog Galea.
Tickets for this event have gone on sale and we are happy with the early response.  All tickets may be purchased online by emailing me at bluesuedes@hotmail.com or at any of our teaching venues. Book Now! $15 per ticket.  We boast the largest dance floor in The Entrance over the Chromefest Weekend.

Fees
We are proud to announce that our Schedule Fee will remain the same this financial year.  All casual fees will remain at $15 for most venues except for Camden & Emu Plains where they have been reduced to $10. Central Coast, Concord and Woodcroft can also take advantage of our 4 Lesson Pass for $50 and 8 Lesson Pass for $90 during Term 3.  Private Lessons are available by appointment.
COURTEOUS REMINDER
If you are absent from a small group class OR unable to attend your private lesson appointment please notify us by text at least 3 hours prior. Thank you for your consideration.  A cancellation fee will apply to Private Lessons for a "no show".
 SAYING
What would you do tomorrow if you knew you weren't going to fail.
Remember to subscribe to the newsletter and Like us on Facebook to receive your daily updates.