Let's get September Shakin'!
Spring is around the Corner and we will all be happy to see the Sunshine after this rain!
We are now in the last quarter of the year and preparing for all end of year Events and term classes.  Please see below for what's happening.
CONGRATULATIONS! The NSW State Titles
Congratulations to all who participated at the NSW State Titles presented by WSDC. It was our largest competition to date and attended by overseas and interstate couples with officials also coming from overseas and interstate. Thank you to all our volunteers, judges, sponsors and officials. Photos and video clips can be viewed on the WSDC Facebook page.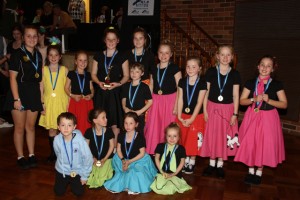 STOCKTON SOCIAL
The Stockton course ended 25 August and Monday 1st September we will have our first Social Night with DJ Brian Bean. All welcomed 6pm – 8.30pm. Cost $5
All new courses are below.


WHAT'S NEW
Triples RocknRoll Course – Woodcroft & Long Jetty
There has been a few requests to teach Triples RocknRoll. We are now taking names down for a 4 week Triples RocknRoll Course at the above venues. Triples RocknRoll is made up of 3 dancers – 1 Lead and 2 followers. Should you be interested please enrol by email. We require a minimum of 3 teams for the course to go ahead.
SWING IN SPRING
Spring Specials at Camden and Emu Plains for the month of September
Introduce a new student and receive your lesson for $5


OUR NEW COURSES FOR SEPTEMBER – Let's put a Spring in your step!!
For all other ongoing courses please visit
http://www.bluesuedeshoesdance.com.au/lessons/
Concord 3 September
RocknRoll Beginners 4 week course 7pm
Bridal 4 week course 8pm
Long Jetty 16 September
Rockabilly Beginners 6.45pm
Beginners Swing at 8.05pm
Gosford 3rd September
Beginners RocknRoll 6.45pm
Intermediate Swing at 7.35pm
Stockton RSL 15 September
Beginners Rockabilly 6.30pm-7pm
Level 2 Rockabilly 7.05pm-8pm
Level 2 Swing 8.10pm-8.50pm
We welcome anyone from the Level 2 class to join in the Beginners Level for free.
Enrol in one of our 4 NEW Courses –starting in the month of September.  Please don't forget to register. Failure to register may result in course cancellation.  Please check our Lesson page for our Full Schedule of Venues &Times.  http://www.bluesuedeshoesdance.com.au/lessons/
CHROMEFEST SOCKHOP
Chromefest 3 day festival is bigger and better once again this year!  
PLEASE NOTE THIS EVENT IS SOLD OUT NOW!!! Please note there is a limit to Ticket Sales for this Venue.   All tickets may be purchased online by emailing me at bluesuedes@hotmail.com or at any of our teaching venues.  $15 per ticket.  We boast the largest dance floor in The Entrance over the Chromefest Weekend.
Sat 25 October 7pm Long Jetty Hall 6 Thompson Street, Long Jetty.

CHROMEFEST DANCE WORKSHOPS AS PER OFFICIAL PROGRAM
Book Now for Dance Workshops to be held Saturday 25 October at El Lago Resort
10.45am-11.45am Rockabilly with Geoff & Sue Routh Footloose Rockers
12-1pm Swing  with Sydney Swing Katz
1.15-2.15pm RocknRoll Intermediate Level with Anna Ocello
All ages $7 per class
END OF YEAR CHRISTMAS PARTY
It's a Pyjama Party!! Looking for best dressed and unique look!
It's that crazy time of the year where we can let our hair down and relax!
We are happy to announce that we have The Aston Martinis performing for us .
The date you ask? Sat 13 December 7pm at Parramatta RSL
Tickets on Sale from 15 September. Tickets $20

ROCKNROLL PROM
Place date in your diary for 2015:
Our new date for the RocknRoll Prom is Saturday 2 May, 2015 same line up, same venue.  We apologise for any inconvenience.  It is footy final season and the venue was booked.
SHOP
There are some Blue Suede Shoes V Neck T Shirts $20 and Polo shirts $25 in stock.  Please place your order in at any of our dance venues or by email.
FEES
We are proud to announce that our Schedule Fee will remain the same this financial year.  All casual fees will remain at $15 for most venues except for Camden & Emu Plains where they have been reduced to $10. Central Coast, Concord and Woodcroft can also take advantage of our 4 Lesson Pass for $50 and 8 Lesson Pass for $90 during Term 3.  Private Lessons are available by appointment.
COURTEOUS REMINDER
If you are absent from a small group class OR unable to attend your private lesson appointment please notify us by text at least 3 hours prior. Thank you for your consideration.  A cancellation fee will apply to Private Lessons for a "no show".
 SAYING
CONQUER FEAR AND NO ONE WILL EVER CONQUER YOU – Tony Robbins

Remember to subscribe to the newsletter and Like us on Facebook to receive your daily updates.