MARCH MADNESS!!!
It's a New Season! Summer ends and Autumn Begins!
Come dance with us!
Without a doubt this has been the busiest start to the year in a long time! It is wonderful to see so many new faces joining each week. For the first time in my 23 years I haven't been able to keep up, so if you are new and you do see me floating around please introduce yourself. I love to get to know my students on first name basis, so don't be shy now.
Courses in March
Stockton RSL– This venue unanimously voted to keep the same courses running in March. Therefore Rockabilly Beginners and Intermediate will continue in the first time slot and Swing Beginners Level 2 and Balboa Level 2 will continue at 8.10pm.
There will be NO course changes to Long Jetty, Concord, Emu Plains or Camden RSL (Monday Nights)
Gosford, Plumpton & Camden RSL (Thursday nights)– We are Waltzing through the month of March at these venues.
Gosford – Swing Intermediate Class- Unfortunately due to the new format it will be couples only at this venue and both must be of intermediate level.
North Shore Venue is on hold and we will keep you informed as soon as it is confirmed.
For a complete guide to all courses Please check our Lessons Page Timetable.
**********************************************
DANCE PARTIES
We did say it was March Madness!!!
The end of term 1 is fast approaching! That means its Dance Party Time!!!
The following venues will be holding social dances. All students from other venues feel free to come along.
Long Jetty
St Patricks Day 17 March – Wear something Green! DJ Vinnie $6 entry fee.
All welcomed bring family and friends. Certificate Presentation Night.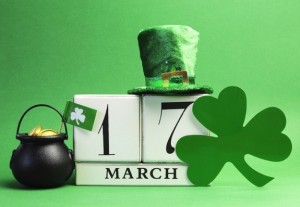 Stockton RSL
Social will be held Monday 30 March at 6.30pm – Certificate Presentation Night will be held on this night.  There will be no classes.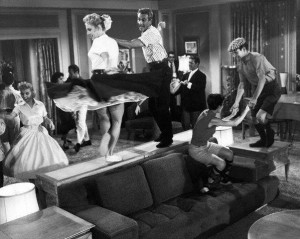 Plumpton Easter Hop & Hunt will be held Thursday 2 April – Bring a SMALL plate to share. Classes will start 15 minutes earlier so we can finish by 8pm and have a social dance party from 8pm-9pm.  There will be an Easter Hunt for the children.
Emails will follow closer to the date.

April Courses
Emu Plains – NEW 4 week Cha Cha course Monday 20 April
All venues will have new beginner Rockabilly, RocknRoll & Swing beginners courses.  All beginner students will move up one level in Term 2.
Plumpton NEW Advance Class
By invitation only – we have an Advance Class covering Competition & Performance starting at Plumpton in March. Emails have been sent to our current enrolled RocknRoll Students in this regards.
**********************************************
Refer a Friend Program
This month Special – Bring a friend along for free during the first week of the month.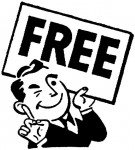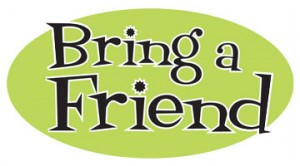 **********************************************

50's RNR Prom
The annual 50s RNR Prom is only 8 weeks away and there are 40 tickets remaining. Be sure to grab your ticket to avoid disappointment.
You can purchase them by Email or pick them up at your next class.
Sat 2 May Doyalson RSL 7pm-11pm
Jungle Kings, Elvis Aaron Mansfield & DJ Vinnie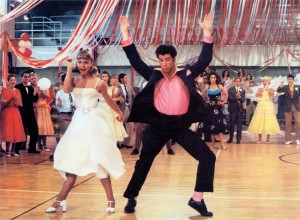 **********************************************
Further down the Track
Come on dancers on your Feet!!
Charity Carmen Desira Hope for All Foundation
Rockabilly Nite at Torque Bar & Grill
Fri 17 April, Tickets $15 6pm
Wes Pudsey, No Brakes, The Hellcat III

Magoo Charity Social will be held Sat 16 May at Long Jetty Venue
with Jake Rattle & Roll performing.
Tickets can be purchased through Barb Ph 0417 984 861.
Please note there will be no ticket sales at the door on the night.

**********************************************
Save the Date !!! Saturday 25 July Central Coast Leagues Club 7pm Tickets $20
Salvation Army Appeal Christmas in July Theme this year is "A Day at the Races"
The Lemon Squeezin' Daddies are back with Pearl up front and DJ Vinnie.
Our Photobooth & the Sydney Swing Katz will be there.
Please note this is to support the Salvation Army Winter Appeal and we do ask our guests to bring along non-perishable food items, clothing, blankets, toiletries etc.
There will be Best dressed prizes, raffles and of course a Student Participation Routine which have proved to be popular in the past.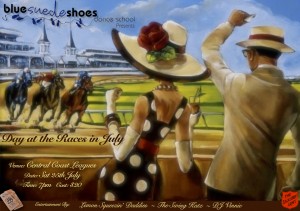 Roaring 20's Jazz on the Lawn
An expression of interest for anyone who would be interested in a High Tea Jazz afternoon. It will be an outdoor dress up event, music, dancing, scrumptious high tea and would be held in Sydney on a Sunday afternoon. Cost has not been confirmed as we will require numbers first. Please let us know if you are interested. A minimum of 50 guests participating will help achieve the ambience, atmosphere and All that Jazz.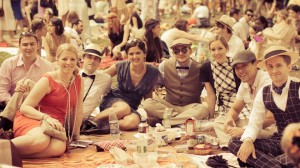 Vintage & Retro Clothing for Guys and Gals
Looking for cool threads, something different! One of a Kind Clothing will be visiting some of our venues during March! So be on the lookout! In the meantime visit our Facebook page. https://www.facebook.com/oneofakindclothingstore



**********************************************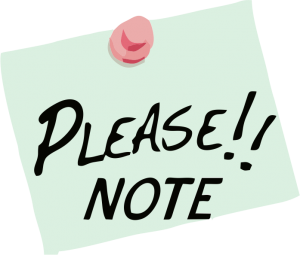 NO CLASSES April 13 at Camden & Emu Plains
NO CLASSES at Stockton Easter Monday 6 April
**********************************************

EXTRA GIGS & EVENTS
6 Mar Sydney Uni Manning Bar The Allnighters Vs The Porkers $30
6-7 Mar Kiama Jazz Festival
7 Mar Harlem Launch Party Ashfield Polish Club
7 Mar Hollywood Glamour Vintage Ball Albert Hall Canberra $40
15 Mar The Alternate Markets Los Strait Jackets & Big Sandy, Pat Capocci
22 Mar Lost in the 50s Cameron Park
28 Mar Kuring-Gai Big Swing Festival St Ives Showground Tickets essential
27-29 Mar Kurri Kurri Festival
Toukley Turnout at the Village Green Last Sat of every month 4pm-9pm
18 April The Australasians RocknRoll & Swing Dance Competition Glen Innes
For all Blue Suede Shoes Events please visit click here
SAYING
Words have wings so speak great things!
**********************************************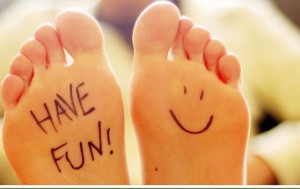 Let's Get the dance floor Hoppin', Rockin' & Swingin' this Mad Month of March!!!
This is how we Roll….Anna & Justin