Our theme this month is PLAY THIS MAY!
We want you to feel good when you get here and feel GREAT when you leave
Play a little …dance a little!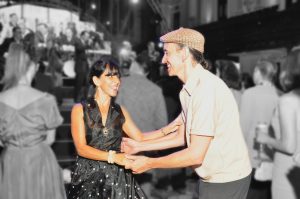 Is this your first time at BSS Dance? The Gig Guide is updated every Wednesday and all
previous Newsletters are kept in the archives and can be read at your leisure.
Read all "About Us" at your leisure and get familiar with our website. We post our News
bi-monthly and the next 2 issues this year are September & November.
Don't forget to follow us on Facebook for all your daily class and events update.
D-DAYS IN MAY
5 May Regional Show Team Suede performing
11 May NSW RocknRoll Association Medals East Gosford Progressive Hall
11 May St Johns Heritage Church Social Woy Woy
18 VRRDA Championships Melbourne
24-26 Rockworth in Tamworth http://www.rockworth.net
Sun 5 May Autofest at the Gosford Regional Show
As part of the Gosford Regional Show this year Team Suede will be appearing at the Autofest on Sunday 5 May.  Some of our dancers will be performing for the first time. Come along and support the troupe and even join in and dance.  Our times 11am, 12.30pm and 2.30pm.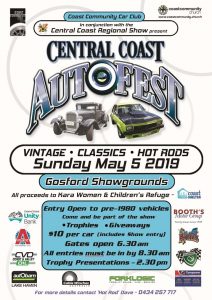 May is Frankie Month
Swing Classes Central Coast, Mayfield and Plumpton will commemorate Frankie this month with Frankie Favourites.  Fun Vintage Lindy Hop Classics.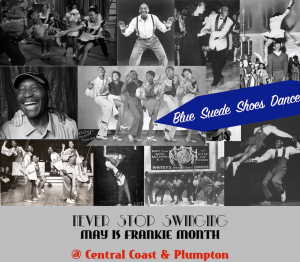 NEW Location Mayfield Uniting Church Dance Classes
The Gallipoli Legions Club venue will move to Mayfield Uniting Church Hall from
Monday 6 May.
29 Highfield Street Mayfield (Corner Kerr Street)
RocknRoll 6.45pm Lindy Hop 7.45pm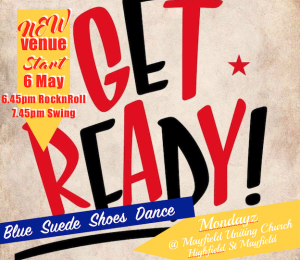 Gosford Venue is having the floor replaced and in the interim the classes will be held at
Ettalong venue on Wednesday nights until 15 May.  We will be back at Gosford on 22 May.  The Monday night classes at Ettalong are still being held as normal with RocknRoll at 6.45pm and Cha Cha continues at 7.45pm
Upcoming Blue Suede Shoes Dance Events
St Johns Heritage Church Social Sat 11 May 6.30pm
Corner Blackwall Road & Victoria Street Woy Woy  $8 at the door
The last social was a huge success earlier this year and we encourage all students to come along.  Great way to start social dancing and improve your skills in a wonderful friendly
environment and great venue.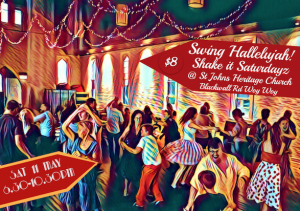 Medals Day East Gosford Hall
NSW RocknRoll Association will be holding medals day for students wishing to do their Bronze and Silver Medals in RocknRoll or Swing.
Spectactors welcome to come and watch and see what it's all about if you are thinking of signing up for the next one in November.
The Medals will be held at East Gosford Hall on Saturday 11 May 12noon

We have so many students asking what is the difference between Swing/Lindy Hop and RocknRoll/Rockabilly dance styles.  It all comes down to the music and the steps and also geographically where you are in the world.  Jive, Jitterbug, East Coast Swing, Boogie
Woogie are all form of RocknRoll. Each have their own style.  Lindy Hop is the grandfather of them all. So don't be afraid of the label of the dance style ….just dance to the music.
There is a lengthy article on NSW RocknRoll Association page if you wish to read more on this topic.
Christmas in July Coast Shelter Appeal
We are collecting donations for Coast Shelter Appeal and gifts for our Raffle. If you are able to help please let me know at class or email me.
I hope your are ready for this years Christmas in July featuring the AWESOME Lucky 7 from Adelaide you will be disappointed if your miss out on these guys!
Get your tickets now!
Adults $35 Children $15
Please check the floor plan and advise which table please here
It doesn't matter whether you Swing or RocknRoll.  So many students missed out on our Swing Ball because they told me they don't Swing Dance.  RocknRoll is East Coast Swing.  Its grandfather dance is Lindy Hop.  You are already swing dancing.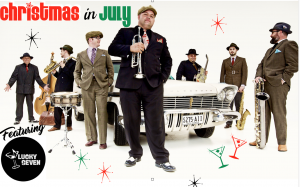 Chromefest Sockhop Update
If you haven't bought tickets yet please get in quick.  There are only 5 tables remaining and these tickets will go on sale in the next month. If there are any Blue Suede Shoes students interested let me know in advance and you may prepurchase your ticket or visit the link here.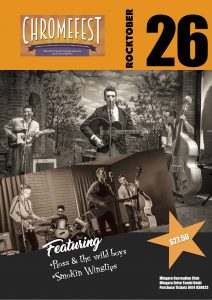 New Courses
Where to Learn? – Lessons page is updated every week so please do check for any last minute changes.  For quick updates you may also visit our Facebook Page.
New month gives you the opportunity to invite your friends to start in our beginners classes.  For those of you who have been dancing in beginners over the last 3 months perhaps its time you move into the Intermediate class and give it a go. Please visit our Lessons Page for full schedule.
Plumpton Thursday 2 May
Ettalong Monday 6 May
Casula Monday 6 May
Mayfield Monday 6 May
Toukley Tuesday 6 May
WSDC
Entry forms will be available from 15 May.
Please note the change of venue Greyhound Social Club Yagoona.
For Accommodation for all our interstate guests please see list below
Greenacre Hotel
Travelodge Hotel Bankstown
The Palms Hotel Greenacre
Hume Hotel
The Rydes Bankstown
Twin Willows Hote Bass Hill
Sleep Express Chullora
Bankstown Motel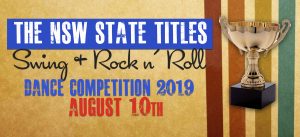 Swing Ball Review
Our first Swing Ball was such a success with the most positive feedback .  It was a great
relaxed intimate affair with an awesome band in The Aston Martinis and great venue.  It's a rarity when a club asks you back.  So keep you eyes peeled for another intimate social coming in September.
Sayings
We were born to STAND OUT  
not FIT IN…..
Courtesy Call
Please pick up the phone and give us a call, email or text if you are unable to attend class.
If you have booked a private lesson and cancel on the day of the lesson a cancellation fee of $33 is charged and is payable.
Unfortunately we need to pass on the overhead costs.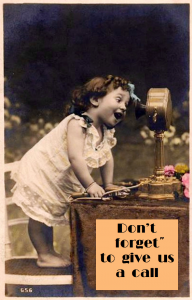 Thank you for reading this through.  We live in a busy world and I appreciate your time.