Thank you for choosing Blue Suede Shoes Dance School & welcome to all our newbies.
New season, Time for change!
Changing place, changing time, change in the future!
Brace yourself !  A lot can happen in the blink of an eye!!
We have been blessed this Autumn with the most beautiful warm weather and stunning sunsets. But we knew only too well that the change was coming. Just like the seasons change there will be changes at Blue Suede Shoes on the Central Coast & Newcastle.
Bi monthly News
Everyone is busy and the mailbox is constantly filling and we understand.  Our Newsletter will go bi monthly from June.  You may follow all updates on Facebook and visit our Website for your weekly gig guide and Events.  Our Lessons Page is updated monthly so be sure to check in.  Our usual update emails will be sent to keep you in check with what's new.
It's our 25th year of Service and I think back of the early days when I first began at Ashlar Golf Club in Blacktown. And just like that very first day I find myself with the same mixed emotions of excitement and uncertainty of having to let go and move on from some of our established locations. Please be sure to read on and check the changes to Toukley & Long Jetty below.
Central Coast & Newcastle Areas Class Disruptions in June
Long Weekend Monday 13 June – All venues will be closed on the Central Coast & Hunter.
Please note Long Jetty will be closed 7 June and there will only be 2 classes this month at this venue 14 and 21 June.
Sydney Class Disruptions Long Weekend
Emu Plains classes will go ahead as normal for the Long Weekend Monday.
Camden RSL will be off on Monday 13 June.
BLUE SUEDE SHOES PRESENTS our first Scholarship program!!!!
WANNA DANCE SCHOLARSHIPS KINDLY SPONSORED BY ARGYLE BROKERS
The Scholarship goes to Elyse Vaessen (Plumpton) & Jaiden Holt (Long Jetty)
Congratulations!
Absolutely thrilled to see this program go ahead.  It has been one of my lifelong dream for Blue Suede Shoes Dance School.  I am very grateful to all businesses who dig deep and support us dancers especially the Juniors.
It's our Young Australians who will carry our dance style into the future.
The Mask
Our new charity for this years Christmas in July is Coast Shelter at Gosford.
Just over 130 tickets have been sold. We have released a further batch of 50.
Get in quick to avoid disappointment.
There will be 2 bands this year as we celebrate our 25th Anniversary and our theme is
THE MASK PARTY.
Please note there are no refunds but tickets are transferrable.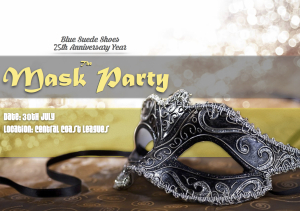 Chromefest Sockhop
Tickets have been released for the Sockhop and available NOW!
We have secured the popular NO BRAKES once again this year with DJ Gav Bean and
tickets remain at the low price of $15. Drinks and water will be on sale and snack food.
Please email bluesuedes@hotmail.com or ring 0414 938623  to book your tickets.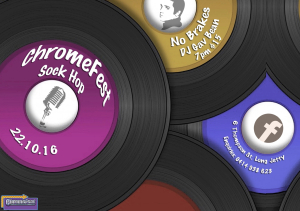 NSW STATE TITLES CHAMPIONSHIP  training/sponsorship
Student training begins now and spots are filling up fast. If you wish to book privates please email or send a text and get a quote and booking time.
We would like to take the opportunity to thank all the businesses and individuals who have applied for Sponsorship to date. There are still a few sponsorships spots available. Entry forms are available by emailing nswstatetitles@outlook.com.
We are happy to announce $1000 cash prize for the Adult Open RocknRoll &
Adult Open Lindy Events this year.  Thank you to our Sponsors!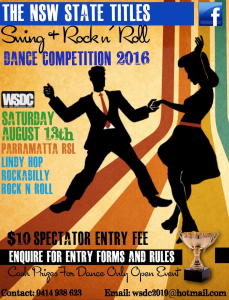 NEW Courses June below for complete Schedule of all classes please visit our Lessons Page
Concord
7pm NEW RocknRoll Beginners
Weston Workers
7pm Rockabilly
8pm New Swing Beginners
Gosford
7pm New Beginners RocknRoll
7pm Rockabilly
8pm – Rumba 8th June
Plumpton
7pm Rocknroll All levels
7.50pm Beginners Swing
7.50pm Intermediate Swing
Toukley Uniting Church Hall at 7 Summerside St Toukley STARTS 20th JUNE
Replacing Beachcomber
7pm Rockabilly
8pm Swing
Toowoon Bay Surf Club 160 Bay Road, Toowoon Bay  STARTS 12th JULY
Replacing Long Jetty Hall
7pm Rocknroll All Levels
7.45pm Swing All Levels
STOCKTON RSL classes will move to MAYFIELD WEST BOWLING CLUB
More news to follow
PUBLIC LIABILITY INSURANCE Versus ACCIDENT INSURANCE
Blue Suede Shoes Dance School is covered by Dance Cover Aust Pty Ltd and with the new changes to our Insurance Policy we have opted to bring back the Waiver Clause. Please note as a student you are covered by any negligence on behalf of our staff at any of our venues. If you should injure yourself through your own negligence please note you are not covered. There is an additional Student Accident Insurance available for a small fee. If you would like any further information please contact me. 

RENTAL INCREASE EFFECTIVE 1ST JULY
As you can appreciate we do our best to keep our fees down and be as cost effective as possible. In the last 5 years we have been fortunate to absorb the increasing rental costs and overheads and kept fees frozen. As from 1st July our increases come into play and some of our venues will notice a fee increase.
We apologise for any inconvenience this may cause.
KIDS CLASSES LONG JETTY
PLEASE TAKE NOTE THERE WILL BE NO KIDS CLASSES AT LONG JETTY FOR THE NEXT 10 WEEKS
Courtesy Call
Please pop us a call, email or text if you are unable to attend class.
If you have booked a private lesson and cancel on the day of the lesson the hall fee of $30 is charged as a cancellation fee and payable.
Unfortunately we need to pass on the overhead costs.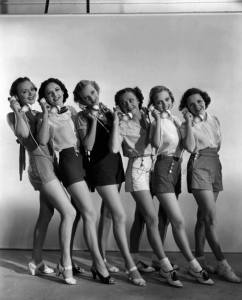 UNSUBSCRIBE
If you no longer wish to receive our News please simply email us with the word UNSUBSCRIBE.
THANK YOU FOR TAKING THE TIME TO READ THIS FAR
Gone Dancing!!!!