WELCOME to our latest News Update with only 8 weeks remaining!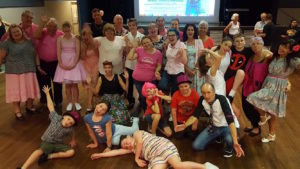 THANK YOU ONE AND ALL who supported Breast Cancer Month and wearing PINK to class.  We are 73% of our goal fingers crossed we make the 100%.
A big thank you for actively promoting and sharing our posts and events and to those of you who encourage enrolments for continuing classes.
Stand by for our last courses of the year please share with friends. Below are the starting dates PLEASE visit LESSONS PAGE for full timetable.
Emu Plains Public School & Camden RSL 23 Oct
Concord 1 November New Swing Beginners 7pm
Plumpton 2 November New RocknRoll Beginners 7pm
Gosford 8 November No classes due to Medals night 1 Nov spectactors $5 no classes
Toukley 14 November  no classes Melbourne Cup Day 7 Nov) St Louis Shag Refresher
Gallipoli Legions Club 6 November – Boogie Woogie is coming!!!!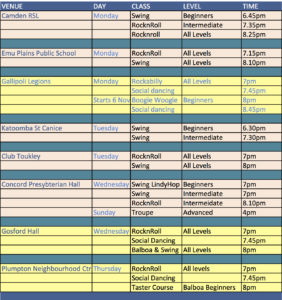 NEW COURSE suggestions are always welcome as we value keeping up with emerging trends and be innovative. Plumpton have spoken and are enjoying their Balboa and Cha Cha this month. Boogie Woogie is high on the list too for Newcastle area.

EVENTS
CHROMEFEST –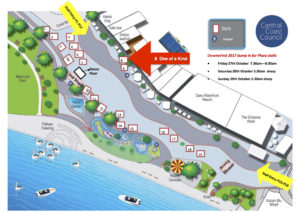 Please visit our Red Marquee which will be in opposite the waterfront stage (we will be between Jimbos Seafood and Fonzarelli Pizza).  Site 8
Chromefest is around the corner and our BOTH Friday night Bop at The Entrance Leagues Club & Si Cranstoun Sockhop at Club Mingara are SOLD OUT.
All seating has been finalised for both events.
Please note the first 330 tickets are Table Seated and Tickets numbers 331 onwards are standing room only.
There are bistro facilities at the clubs and parking for your convenience.  Doors open at 6.30pm for both nights and finish around 11.pm-11.30pm.  Don't forget your tickets and/or online receipts.
For Friday Night Bop Seat allocation please visit this link SEATING and scroll down the page.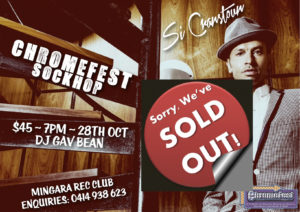 For Si Cranstoun Seat allocation please visit this link SEATING and scroll to the bottom of the page.

END OF YEAR CHRISTMAS PARTY
Christmas Story time event is selling fast with only 2 tables (16 tickets) remaining so please be sure to book your ticket to avoid
disappointment. Let's finish the year with a bang!
DOUBLE header THE LINCOLNS & HELLCAT III head up the night!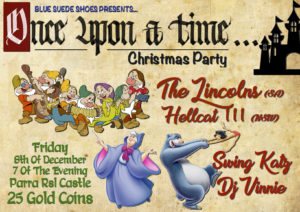 Halloween Theme Club Toukley Tuesday 31 October
Our last course for October at Club Toukley will be a Halloween Theme on Tues 31 October. Come along and dress up and have some fun. The following week is Melbourne Cup and there will be NO classes that night. We return for the last course of the year on Tuesday 14 November.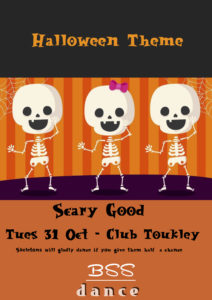 Medals Night Wednesday 1st November at Gosford Hall will replace regular dance
classes. We encourage students to pop in and support the students going for their bronze and silver medals. There will be some social dancing. All welcomed $5 at the door.
Drinks and nibbles are welcome but please take your rubbish with you. We have 34 medals and wish all the students the very best.
Starts 7pm sharp.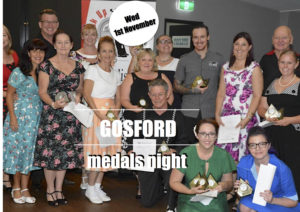 Si Cranstoun Sydney Show Fri 3 November at Blacktown Workers Club
Don't forget to get your tickets to see Si Cranstoun for a second show. Ive bought the
trifecta with Lizottes show, Chromefest and Blacktown Workers. It will be a great night with a large dance sunken dance floor come along and join us. Tickets may be purchased via the club.  Remember Si Cranstoun is SOLD OUT at Mingara.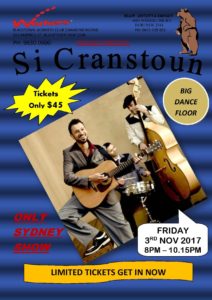 PLEASE NOTE THESE 3 CLOSURE DATES below
***Thursday 26 October No classes at Plumpton we return 2 November

**Melbourne Cup Day – PLEASE note there will be no classes at Club Toukley on 7 November due to Melbourne Cup
**Gallipoli Legions Club PLEASE note there will no classes Monday 30 October after Chromefest

Long Jetty Street Festival Sun 19 November
Dancers don't forget we will be Roaming and Dancing in the streets between 12noon and 2pm. Meet at Green Tangerine Corner Thompson Street & The Entrance Road at 11.30am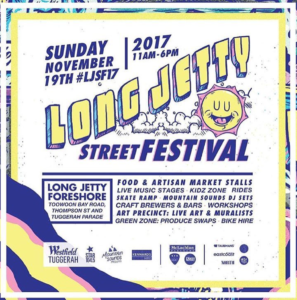 EXPRESSION OF INTEREST SUMMER WORKSHOPS
Please email or message your interest for Summer Workshops during the Christmas Holidays.  There is a lot of interest for Boogie Woogie and Advance RocknRoll on the Central Coat/Newcastle.  We appreciate feedback from Sydney students as well.
SAYING
"Don't be a passenger in your own life"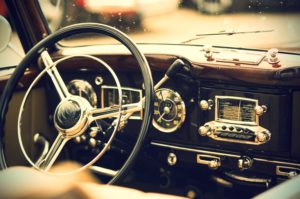 Our next Update will be December in the meantime
See you on the dance floor
Anna & Justin